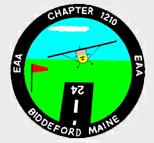 Chapter Officers
President:

279 River Rd.
Arundel, ME. 04046
967-4018
Vice-President:

272-6058
Treasurer:

43 Water St.
Kennebunk, ME. 04043
985-7411
Secretary:

8 Patterson Drive
Kennebunk, ME. 04043
590-4623
Activity Director:

7 Colony Rd
Westbrook, ME
242-0252


Web Editor:



Biddeford Airport (B19)

---
Our mission is to promote aviation among the public, educate our youth through the Young Eagles program, and to support each other in our efforts to build and fly airplanes. Come visit a chapter meeting to learn more.
CHAPTER MEETING
---
Next Meeting: Sunday, May 21st 10AM-12PM
Location: Lewiston/Auburn Airport, to tour Jason Barnes' Zenith 750 Project

- See Google Map for directions to Lewiston/Auburn Municipal Airport


- Look for the vehicles parked around the hangar, behind the fence on the left side of Landry Rd

Join the Chapter!
Print this EAA Chapter Membership Application
---
Chapter Hangar
NEXT: TBA

Seeking contributions to complete the hangar.
Check with Steve (H)967-4018 (Cell)467-1086 on any
questions (times, equipment, tools, weather, etc.)


View
---
---
Other Events / News
Next Chapter Meeting: Sunday, May 21st

The regular monthly meeting will be held Sunday, May 21st, at 10am-12 at Lewiston/Auburn Airport to take a tour of Jason Barnes' Zenith 750 project.
The hangar is located east side of the airport, second set of hangars behind Skyward Aviation. Same side of airport as Life Flight.
Chapter Dinner - Friday, May 19th, Duffy's, Tavern

The next Chapter Dinner: we're gathering at Duffy's Tavern in Kennebunk, May 19th at 6:00pm. RSVP Steve at 467-1086. or email Steve (sidebar). See You There!
---
Please send comments to the .