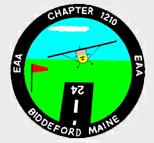 Chapter Officers

President:

279 River Rd.
Arundel, ME. 04046
967-4018
Vice-President:

272-6058

Treasurer:

43 Water St.
Kennebunk, ME. 04043
985-7411

Secretary:

43 Mountain View Drive
Sanford, Maine 04073
490-3748

Activity Director:

7 Colony Rd
Westbrook, ME
242-0252



Web Editor:







Biddeford Municipal Airport (B19)
Cumberland York Aviation - Services

<! <(second column)>
<! Yellow Table>
---
Our mission is to promote aviation among the public, educate our youth through the Young Eagles program, and to support each other in our efforts to build and fly airplanes. Come visit a chapter meeting to learn more.
CHAPTER MEETING
---
Next Meeting: Christmas Party, Sunday, December 3rd 12:00PM
Location: Wazoo's Hangar, Biddeford Municipal Airport.
--
Members, go to the Members' Section for details and directions.
- See Google Earth Map for directions to Biddeford Municipal Airport.
Chapter Dinner Announcement below... .
Join the Chapter!
Print this EAA Chapter Membership Application
---
---
Chapter Hangar
NEXT: TBA

Seeking contributions to complete the hangar.
Check with Steve (H)967-4018 (Cell)467-1086 on any
questions (times, equipment, tools, weather, etc.)

Members

Visit the Chapter Photo Gallery now. Post your own pics.
Visit the Members' Only section of your web site.
Find the Meeting Minutes on the Members' Only section.

View
---
FOR SALE
Members may list aviation related items for sale on this web site. Contact the webmaster for details.
---
---
Other Events / News



Annual Christmas Party

- Sunday, December 3rd 12:00PM
The Annual chapter Christmas Party will be held at Wazoo's Hangar at the Biddeford Airport. It begins at 12:00 Noon! Hope to see you there!
Chapter Dinner - TBA
---
Chapter Activities:
See the progress on
The Chapter Hangar
For a look at our Young Eagles
The Eagles Nest
See the Latest
Homebuilt News
Find out what is happening in
The Crosswinds Workshop
Come with us on a
Field Trip
---
Fly-ins.............
---
Look here for Links

Favorite Links...........
---
Please send comments to the .